On Saturday, the Franklin County Sheriff's Office, along with their friends from the Tennessee Highway Patrol, Winchester Police Department and Decherd Police Department hosted a Tip-A-Cop for Special Olympics event at Draft & Watercrafts the Twin Creeks Marina in Winchester, TN. The event set a new record in Tip-A-Cop fundraising history, bringing in $8,425.70 to support Special Olympics Tennessee athletes.
Sergeant Sam Davidson of the Franklin County Sheriff's Office helped organize the event. He also serves on the Law Enforcement Torch Run State Council. Davidson is passionate about Special Olympics because of a personal connection to the movement.
"My why is that I have a sister, and I got to see how Special Olympics changed her life," said Davidson. "So that's my motivation. I'm always looking for good causes, and what better cause than Special Olympics. The first time I saw the way it changed her life was when I was six or seven when she started competing with Special Olympics in West Tennessee. The transformation that it made in her life really stuck with me. That's why we're here today."
One of the many reasons so many officers enjoy being a part of Law Enforcement Torch Run, Tip-A-Cop and other Special Olympics fundraising events is because it connects them with their communities.
"They love it," said Davison. "The community is already asking when are we going to do our Torch Run this year. It brings so much awareness. We did 26 Miles last year in our Torch Run and the community loved it. Folks are out there, honking their horns and cheering. We had tons of folks show up and support us through our last one. And I think it's going to be bigger and better this year. Anytime you can humanize officers, it brings the community and law enforcement agencies together. This is my first Tip-A-Cop, and it's been a blast."
This Tip-A-Cop event was literally held on the water of Tims Ford Lake at Draft & Watercrafts. It was the perfect opportunity for officers to interact with the community and showcase their serving skills along with the incredible wait staff of the restaurant.
"This is amazing," said Davidson. "And I want to give a shout-out to Drafts & Watercraft's owner Scotty Steele. As soon as I brought it up to him, his eyes lit up, and he was smiling. He said, 'I love it, we're gonna have a great event.'"
A young patron even had the chance to be serenaded by officers serving during Tip-A-Cop to celebrate her birthday. One officer even came equipped with his tactical ukulele.
A young patron at Draft & Watercrafts in Winchester was serenaded by the Franklin County Sheriff's Office, Tennessee State Troopers and more during the Tip-A-Cop fundraiser for Special Olympics Tennessee. pic.twitter.com/mxCy3UVaWU

— Special Olympics TN (@SOTennessee) August 14, 2023
Davidson and the other officers serving have participated in multiple events for Special Olympics Tennessee. This includes local area events, state games and even conferences dedicated to learning more about the movement. Oftentimes, it's word-of-mouth that leads others to get involved.
"The way I got into this was a friend of mine, Mark "Yogi" Yother, who was the Police Chief of Manchester," said Davidson. He's really big in Torch Run, and he invited me out. I would tell every officer, to seek out a Torch Run and go be a part of it. That's the first step. And then once they get the hook in you, you'll get the feeling of running with the torch. Then, you're going to want to host your own. If somebody wants to get started, find a Torch Run to participate in. And then you'll want to do it back at your agency, I promise."
But why do so many officers, including Davidson, want to participate in fundraising events for Special Olympics?
"It's amazing," said Davidson. "You cannot feel bad after being around the athletes. It's just such a good time. The interactions are amazing. And for me, I got to see a little bit of that growing up with my sister. But there's nothing like when you run into a regional games and all the athletes are cheering and the crowd's going crazy. It's amazing. It really warms your heart and there's nothing else like it."
Want to learn more about Law Enforcement Torch Run? Click here.
Find future events on our Events calendar. Click here.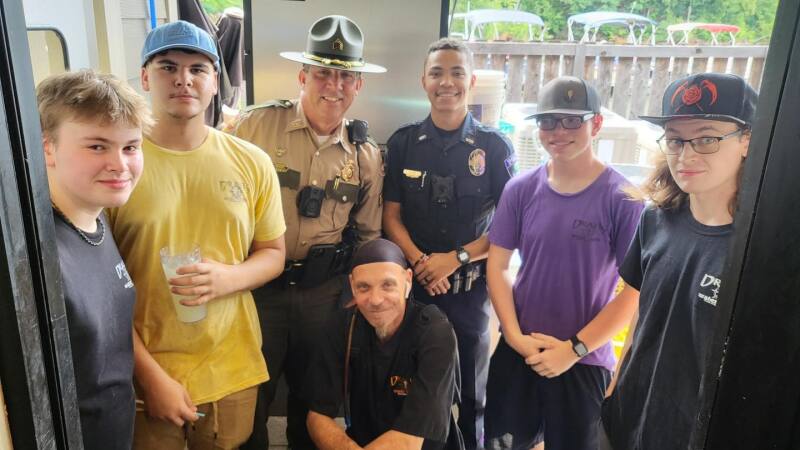 Officers serving patrons at Winchester Tip-A-Cop
Officers serving patrons at Winchester Tip-A-Cop
Officers serving patrons at Winchester Tip-A-Cop
Officers serving patrons at Winchester Tip-A-Cop
Officers serving patrons at Winchester Tip-A-Cop
Officers serving patrons at Winchester Tip-A-Cop
Officers serving patrons at Winchester Tip-A-Cop
Officers serving patrons at Winchester Tip-A-Cop
Officers serving patrons at Winchester Tip-A-Cop
Officers serving patrons at Winchester Tip-A-Cop
Officers serving patrons at Winchester Tip-A-Cop
Officers serving patrons at Winchester Tip-A-Cop
Officers serving patrons at Winchester Tip-A-Cop
Officers serving patrons at Winchester Tip-A-Cop
Officers serving patrons at Winchester Tip-A-Cop
Officers serving patrons at Winchester Tip-A-Cop
Officers serving patrons at Winchester Tip-A-Cop
Officers serving patrons at Winchester Tip-A-Cop